Attala County

 

is a county

 located in the central

 Mississippi

. As of 2010, the population was 19,564. It's largest city is Kosciusko

.  Attala county is home to Ethel, MS.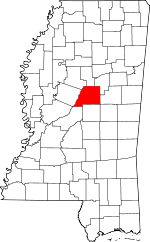 Although Attala county's history has not been explored in depth, it is not a complete mystery...
Before its founding in 1833, travelers would stop and drink from a waterhole that is now the Court Square.  WIlliam Dodd named the county after a fictional heroine of the Natchez Tribe.  During the Civil War, Attala county was mysteriously absent of bloodshed.
The first Order-member arrived shortly before the fall of the Nazi-Order regime and wanted to establish rule at Kosciusko, but found that the mass-sacrafice of students would be noticed.  Becuase of this, the member began working on preparing Ethel once it was known the Nazi-Order regime would soon end.  Once this happened, Attala county served as a refuge for the remaining members.
The Order's involvement in Attala County has brought heavy misfortune and casualties.  In 2009, the Glacier prepared to destroy Earth, starting with Attala County.  Since then, the Storm assaulted Attala county twice, and the Glacier also attacked once more.
Locations
Edit
Ethel

Ethel High School
Ethel Quick Stop
Town Hall
Greenlee

Hesterville
Kosciusko

Kosciusko High School
Kosciusko Cemetary
Attala VoTech
Kosciusko Colosseum
The Court Square

McAdams
Sallis
Sand Hill
Williamsville
Zama
Alternate Universes
Edit
Despite the universes being alternate, Attala county's status is usally the same, if not worse.
In this universe, Attala county has been completely submerged into the Glacier.  Although it has no atmosphere of its own, it is still habitable and Ethel has a few dozen survivors.  It is unknown what became of the other locations in Attala county, though it is possible the other locations are populated with small groups of survivors.
In this universe, Attala county has been completely abandoned other than the PAAB and Order.  Most buildings remain, though some were destroyed during the initial attack.